Ronald L. Westad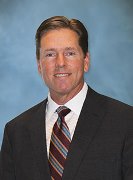 Ronald L. Westad is the President and Chief Executive Officer (CEO) of Arizona Federal Credit Union (AFCU).  Ron has been with the credit union since 1987, and has served as President and CEO since 1996. AFCU is one of the state's largest credit unions with over $1 billion in assets under management serving more than 100,000 members.  AFCU employs approximately 450 individuals throughout Maricopa and Pinal counties and provides a full array of financial services including financial counseling, savings, loans, investments, insurance, and transactional/payment programs.
Ron is active in the civic and business community of Maricopa County serving on the Board of Directors of Merchants Information Solutions, Inc., 100 Club of Arizona, and Corporate Network Brokerage Services. Past activities included serving on the Board of Directors of the Greater Phoenix Urban League, Arizona Credit Union League, First Corporate Credit Union, Maricopa County Sheriff's Youth Assistance Foundation, and Make A Difference Advisory Board.
Ron holds a Bachelor of Business Administration (BBA) degree in Accounting and Finance from the University of New Mexico and has resided in Arizona since April of 1987. Ron resides in Mesa with his wife Lisa and their two children, Cory and Jenna.