Lisa A. James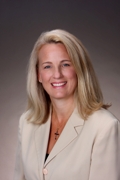 Lisa A. James is an officer of Gordon C. James Public Relations. GCJPR is a full service public relations company with an emphasis in government affairs, event planning and media relations.
Lisa began her career in politics working in the Illinois Legislature for State Representatives and Senators, as well as the Assistant Clerk of the House. She managed and worked on several campaigns in Illinois before moving to Washington, DC where she joined the Republican National Committee in the political department serving state and local governments. She has worked as an advance representative for President George H.W. Bush and worked on the 1992 Bush/Quayle campaign.
In 2000, Lisa was a member of the Arizona George W. Bush for President Advisory Board. She served as the director of Arizona Victory 2000 where she was directly responsible for the management of all Victory 2000 efforts in Arizona. In 2004, Lisa was chairman of the No Taxpayer Dollars for Politicians Ballot Initiative before she served as the Arizona executive director for Bush-Cheney '04. As executive director, she was responsible for all campaign efforts in Arizona. Lisa served as the director of coalitions for Senator Kyl's 2006 re-election effort before serving as the Arizona director for the Arizona Republican Party Victory 2006 campaign.
Lisa has been involved in many community activities including serving as the chair of the Teaming Up for Kids Luncheon benefiting Florence Crittenton, the corporate board of directors of the Boys & Girls Club of Metropolitan Phoenix, Crisis Pregnancy Center Gala committee member, Maggie's Place Baby Shower Committee Member and other charitable events. She co-chaired the successful Arizona Winning Women Fundraiser for the Arizona Republican Party featuring Mary Matalin and RNC co-chair Ann Wagner. She was a member of the 2003 Presidential Rank Awards Program Meritorious Executive Review Board. Lisa received her bachelor's degree from Southern Illinois University.
Lisa is married to Gordon James. They have four children and reside in Scottsdale, Arizona.