Home in 5 Program Promoted at GCU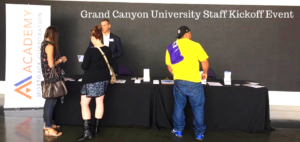 Grand Canyon University held its annual staff kickoff event and the Home in 5 Advantage was one of its stars.  Brian Mueller, President of GCU, let his 3,500 member staff know about the down payment assistance grant available with the Home in 5 Advantage program and representatives were there to answer questions.
Through July 2016, the Home in 5 Program has assisted almost 12,000 Maricopa County citizens reach their dream of home ownership.