Homeless Campus Opens Welcome Center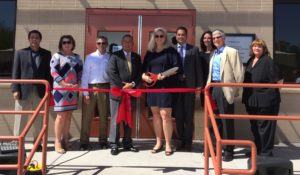 For over ten years, the Maricopa County Human Services Campus, located at 12th Avenue and Madison, has provided food, shelter, job assistance, health care, identification cards and other services needed to get those without homes back on their feet.
With donations from the Maricopa County IDA, the Garcia family and the Phoenix Thunderbirds Charities, the campus built the Brian Garcia Welcome Center to help their clients receive the services expeditiously.
In addition to honoring the life of Brian Garcia, a frequent volunteer at the homeless campus, the campus also announced a garden and pathway named after Steve Manos, the son of Tom Manos, former County Manager and a person who has been integral to the success of the campus.
On behalf of the IDA, we would also like to thank Mike McQuaid, whose dedication and service to the campus and the homeless is without peer.